Congress has announced plans for a second stimulus check, and folks aren't thrilled with the amount. The proposed $900 billion relief package will offer individual $600 checks to struggling Americans, along with "$300 weekly supplemental unemployment insurance; small-business aid through the Paycheck Protection Program; food and rental assistance; and money for schools." Some folks could get their stimulus checks as early as next week, according to Treasury Secretary Steven Mnuchin.
The second set of stimulus checks comes months after the first was passed back in March, near the onset of the coronavirus pandemic; that first batch included individual checks in the amount of $1,200 each. Folks who earned less than $75,000 in 2019 will qualify for this round of stimulus checks. If you earned between $75,000 and $99,000 in 2019, you will received a reduced stimulus check. Anyone who made over $99,000 in 2019 does not qualify.
Senate Majority Leader Mitch McConnell and Speaker of the House Nancy Pelosi were coming under fire for not agreeing on a second relief package sooner. Now, news of these checks comes just days before Christmas, in an apparent last-ditch effort to give Americans some much-needed relief before the holidays and the New Year.
But plenty of people aren't satisfied with the $600 amount, especially considering how long it took congressional leaders to come up with a deal. Many are likening Congress' second stimulus check plan to Marie Antoinette's signature (and oft-disputed) quote of "Let them eat cake," which, legend has it, she supposedly said when she was serving as queen of France during the French Revolution and peasants were starving throughout her country.
A wave of memes have popped up online casting Pelosi and McConnell as Antoinette, which is a clear sign that folks are not happy with the level of compassion they're seeing from Congress.
"Let them eat cake," one person wrote on Twitter, joking that "Nancy Antoinette" uttered these words. The tweet is accompanied by a picture of Pelosi eating an ice cream bar.
Another person wrote that "$600 is just enough to keep the poor starving," with an image of McConnell wearing a powdered wig, similar to that of the French ruler.
"For every family who thinks they're hungry, I can find a family who isn't," one person tweeted, attributing the fake quote to "Mitch Antoinette."
One account, for The French History Podcast, shared an image of McConnell's face photoshopped onto Marie Antoinette's body. The account argued, though, that Antoinette never actually said the iconic quote that's always attributed to her. "That was slander by anti-royalists to make her seem out of touch with the public," the account noted in its tweet.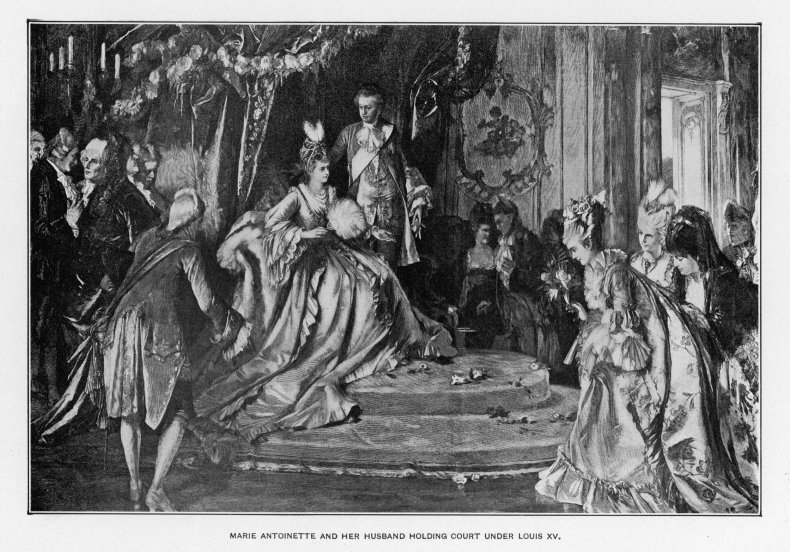 Another user shared a picture of a miniature cake, presumably to emphasize the relatively small amount of money that each person will get from the stimulus checks.
"The government really be saying 'Let Them Eat Cake' with this $600 nonsense, someone else wrote, sharing a gif from Sofia Coppola's 2006 film Marie Antoinette. "#StimulusChecks #StimulusChecksNOW," they added.
One user decided to have fun with the notorious line about cake, by superimposing the words "Let them have $600" onto an image of Marie Antoinette.
If the immediate reaction online is indeed indicative of a larger public backlash, one that could put future pressure on lawmakers, remains to be seen.