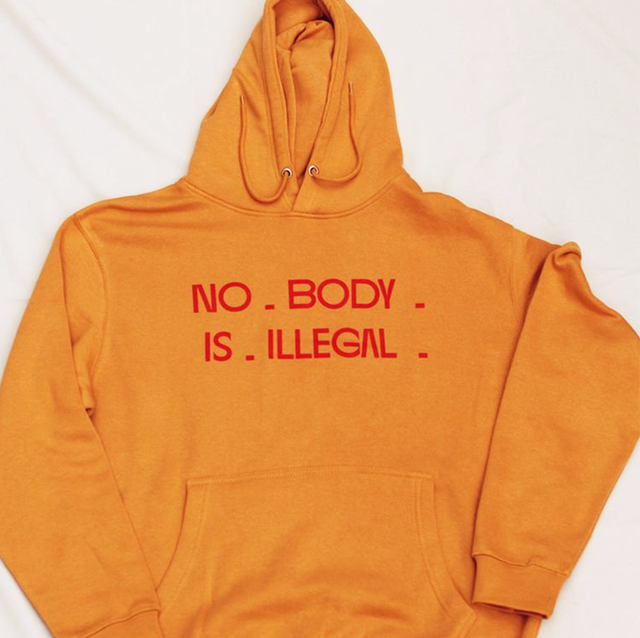 courtesy
Whether you're shopping for holiday gifts or just browsing online for yourself, you're faced with a lot of options—like a lot. If you're tired of buying meaningless stuff day in and day out (let's face it, we've all got enough of that) and are striving to be more socially responsible in every aspect of your life, here's what you can do to make a difference in the items that you buy: Invest a little more time or money in finding ethical and sustainable clothing, giving gifts that give back to a charity, or buying products that support communities other than your own.
And while you're at it, check out these clothing brands supporting immigrants that are making an impact in the world. From brands founded by proud immigrants to collaborations that donate to important causes, here are nine clothing brands you can feel good about shopping and spending your money on.
Advertisement – Continue Reading Below
1
Kids of Immigrants
Immigrants Tote Bag
Kids of Immigrants
kidsofimmigrants.us
$40.00
Kids of Immigrants was started by first-generation Americans Daniel Buezo and Weleh Dennis and carries everything from hoodies, sweaters, jackets, and more. As part of the "Work a Day in Our Shoes" campaign, Kids of Immigrants collaborated with Vans to create DIY sneaker customization kits. While most items from the launch are already sold out, this cool two-toned tote is still up for grabs. 
2
Fenty
Long Sleeve Printed T-Shirt "Immigrant"
Fenty, the fashion label by Rihanna (who is from Barbados) that truly needs no introduction, originally dropped this T-shirt in 2019 as part of the 6-19 collection, but you can now shop the reimagined 2020 version, a sheer, jersey long-sleeve shirt with the signature "Immigrant" emblazoned on the back.
3
Custom Collaborative
Fashion Face Masks: Animal Edit
Custom Collaborative
customcollaborative.org
$25.00
NY-based Custom Collaborative helps women from low-income, immigrant communities start their careers in fashion as designers and entrepreneurs by teaching them invaluable industry skills. Support the artisans by shopping their creations, like silk scarfs, shirts, wraps, and more. The masks shown here are made from upcycled materials from the fashion industry, and with each purchase of a mask, one is also donated to frontline workers.
4
Levi Strauss & Co.
High Loose Women's Jeans
5
No.Body.Is.Illegal
V Gold Body Politic Hoodie
No.Body.Is.Illegal
nobodyisillegal.com
$50.00
According to the LA-based brand's website, No.Body.Is.Illegal supports nonprofits that provide immigrant advocacy and legal aid to vulnerable immigrant families. You can feel good knowing that when you shop the hoodies (like this one), face masks, and shirts from this brand, 10 percent of your purchase goes toward supporting immigrant advocacy.
6
Parádisô
White 'Immigrant" Supima T-Shirt
Parádisô
united-paradiso.com
$80.00
7
Everlane
The 100% Human Tote Bag – Canvas / Black
Everlane
everlane.com
$28.00
Everlane launched the 100% Human collection back in 2016 to advocate for human rights. Four years and $650k in donations to the ACLU later, you can still shop the items from the line, like this graphic tote bag. Ten percent of each sale goes to the ACLU, so buy one for a friend, too, while you're at it.
8
Labrum London
Tan "Designed by an Immigrant" Hoodie
Labrum London
labrumlondon.com
£100.00
As expressed on the brand's website, Labrum aims to "challenge the negative connotations that are attached to being an immigrant by celebrating the amazing things immigrants and ex-pats have done and continue to do." Outerwear, accessories, shirts, and pants—this menswear brand has plenty of items to check out.
This content is created and maintained by a third party, and imported onto this page to help users provide their email addresses. You may be able to find more information about this and similar content at piano.io
Advertisement – Continue Reading Below