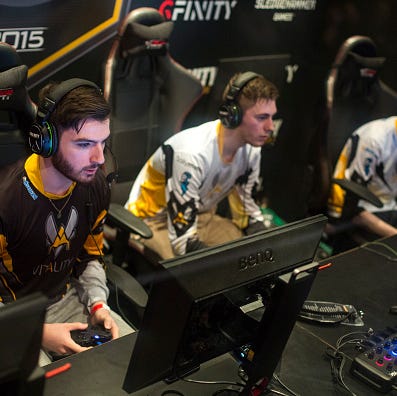 Getty Images
Amazon Prime Day is offering up some impressive gaming deals right now to help you save money on improving your set-up.
Whether you need a new mechanical gaming keyboard or mouse for better precision online, or you want a better headset to get the competitive advantage against your opponents, there's an impressive discount to help you grab a bargain.
We have some of the best brands available, with Razer, SteelSeries, ASUS, and more all dropping big discounts on the best devices.
You'll need to have an Amazon Prime subscription to make the most out of these deals, getting the exclusive offers, free next-day delivery and access to Amazon Prime.
RELATED: Amazon Prime Day top MicroSD card and external hard drive gaming deals
You can get free next-day delivery on anything you buy, as well as access to the thousands of exclusive deals available throughout one of the biggest shopping days of the year.
SIGN UP TO AMAZON PRIME
You can sign up to Prime for £7.99 a month, or get a full year's subscription for £79.99, but you will easily make that money back within a few purchases thanks to the free shipping.
Or, you can get a free trial on your Prime subscription by using a unique email address when you sign up.
You'll get 30 days to use the features as much as you want, before being charged £7.99 once your trial has ended.
Advertisement – Continue Reading Below
1
Razer Huntsman Tournament Edition
Razer
amazon.co.uk
Was £124.99, Now £88.99 (SAVE 28%)
2
Razer Cynosa Lite – Gaming Keyboard
Razer
amazon.co.uk
Was £44.99, Now £28.99 (SAVE £16)
3
Corsair K70 RGB MK.2 Mechanical Gaming Keyboard
Corsair
amazon.co.uk
Was £149.99, Now £94.99 (SAVE 37%)
4
Trust Gaming GXT 830-RW Avonn Gaming Keyboard
Trust Gaming
amazon.co.uk
Was £29.99, Now £19.99 (SAVE £10)
5
SteelSeries Arctis Pro Wireless – Gaming Headset
SteelSeries
amazon.co.uk
Was £299.99, Now £204.49 (SAVE 32%)
6
SteelSeries Arctis Pro GameDAC – Gaming Headset
SteelSeries
amazon.co.uk
Was £226.99, Now £149.99 (SAVE 34%)
7
SteelSeries Arctis 3, All-Platform Gaming Headset
SteelSeries
amazon.co.uk
Was £83, Now £54.99 (SAVE 33%)
8
Razer Kraken X – Gaming Headset
Razer
amazon.co.uk
Was £49.99, Now £29.99 (SAVE £20)
9
Razer Kraken Tournament Edition, Wired Esports Gaming Headset with Full Audio Control and THX Spatial Sound and Advanced Ergonomics, USB audio controller – Green
Razer
amazon.co.uk
Was £99, Now £37.99 (SAVE 62%)
10
ASUS ROG Delta RGB Gaming Headset
ASUS
amazon.co.uk
Was £179.99, Now £162.95 (SAVE 9%)
11
Trust Gaming GXT 488 Forze-B
Trust
amazon.co.uk
Was £39.99, Now £29.99 (SAVE 25%)
This content is created and maintained by a third party, and imported onto this page to help users provide their email addresses. You may be able to find more information about this and similar content at piano.io
Advertisement – Continue Reading Below