Welcome to the Brussels Edition, Bloomberg's daily briefing on what matters most in the heart of the European Union.
With talks over the U.K.'s future relationship with the EU on life support, the two chief negotiators, Michel Barnier and David Frost, will today seek a way out of the latest bind. That they're still in contact (and were on Friday, too) shows that, despite a British government spokesperson's assertion that negotiations are "over," all is not lost just yet. Underlining that sentiment, U.K. officials are prepared to water down Boris Johnson's lawbreaking Internal Markets Bill, people familiar with the matter said late yesterday, a move that could help rebuild trust between the two sides. Cabinet Office Minister Michael Gove, who meets European Commission Vice President Maros Sefcovic in London today to discuss the challenges of Brexit in Northern Ireland, said yesterday that the door is still "ajar" for talks, but that he is less hopeful than he has been in recent weeks that a new trade deal will be reached.
—Ian Wishart and Nikos Chrysoloras
What's Happening
Sanctions Push | The Commission will today unveil a legislative proposal to allow the sanctioning of companies and individuals involved in serious human rights violations across the world with travel bans and asset freezes. The plan will in theory simplify the process by giving the Commission the power to enforce the measures, but won't resolve the key obstacle of having to secure the unanimous backing of all 27 member states.
Fake News | More than five years after Europe began trying to combat Russian disinformation in earnest, the Kremlin's campaigns are still hitting their targets. Moscow's outlets have steadily adapted their tactics to evade efforts to combat them, often using local media and writers to avoid detection and reach receptive audiences.
Good Debt | The Commission will sell its first social bonds as soon as this week, tied to a job support program called SURE designed to offset the fallout from the coronavirus. Here's why the sale is set to make a big splash in the niche pool of sustainable debt.
Shipping Emissions | Nearly 200 countries are nearing a legally binding agreement to reduce pollution from the world's cargo ships, a step forward after two years of talks on how the industry should clean up its emissions. A series of virtual meetings begins today under UN-auspices to seal the accord; here's what it means for the 60,000 large ships that haul everything from containers to crude oil.
In Case You Missed It
Virus Update | Millions across Europe faced greater restrictions on their movement over the weekend, with Italy following France and the U.K. in imposing new curbs on social life. The measures rolled out to check the surge of infections — including some of Europe's toughest constraints in Ireland — will increase uncertainty for companies and families, ECB President Christine Lagarde said. It's an economic catastrophe.
Russian Missiles | A Turkish test of Russian-made S-400 missile launcher drew rebukes from NATO and the U.S. State Department. Turkey has strained relations with its NATO partners by purchasing military technology from Russia, but the tone of the reactions so far has been too muted to worry Ankara.
Cyprus Dispute | Turkish Cypriots voted out a president who favors reuniting Cyprus under the EU's umbrella and elected a supporter of the two-state model backed by the government in Ankara. The chances of resolving tensions in the Eastern Mediterranean may have suffered a setback.
More Money | Italy's government approved next year's draft budget, which seeks to extend expansionary measures amid a resurgence in coronavirus cases. The latest round of light-touch restrictions may further cloud the economic outlook.
Nagorno-Karabakh | A cease-fire between Azerbaijan and Armenia was in tatters hours after coming into effect. Hundreds of people have been killed since the worst fighting in decades erupted between the countries over the breakaway region of Nagorno-Karabakh three weeks ago.
Sour Taste | The restaurant industry in Europe and the U.K. had a near-death experience in the spring and summer. New restrictions are hitting just as the dining scene was beginning to welcome back customers, Bloomberg's chief food critic reports. 
Chart of the Day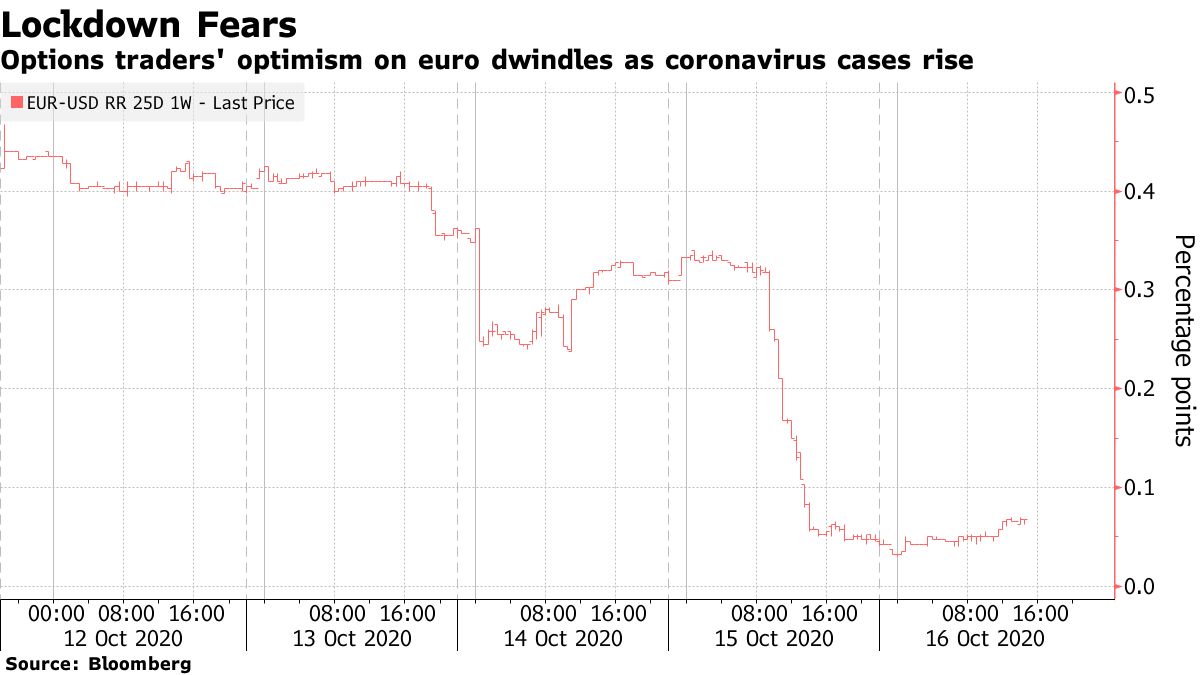 Brexit may be a mess, but it's not the reason that the mood in financial markets has soured. A resurgence in infection rates across Europe and the U.K. tops the list of worries for investors. The pandemic shock on consumption and investment remains the main driver of risk in the euro zone, while for now, Brexit is looking more like a local affair.
Today's Agenda
All times CET.
10 a.m. EU Agriculture ministers meet in Luxembourg
5:30 p.m. MEPs will outline their vision of how the EU can best regulate Artificial Intelligence "in order to boost innovation, ethical standards and trust in technology"
EU tech chief Vestager, Polish President Duda, U.S. Secretary of State Pompeo participate in Three Seas Virtual Summit and Web Forum 
EU Trade chief Dombrovskis speaks to an online event organized by the Konrad-Adenauer-Stiftung
European Commission unveils proposal for sanctions against serious human rights violations
European Parliament demands on how digital services, including online platforms and marketplaces, should be regulated, will be debated by MEPs
ECB's Lagarde speaks at monetary policy conference
Final round of consultations to select the next WTO director general begins
Like the Brussels Edition?
Don't keep it to yourself. Colleagues and friends can sign up here. We also publish the Brexit Bulletin, a daily briefing on the latest on the U.K.'s departure from the EU. 
For even more: Subscribe to Bloomberg All Access for full global news coverage and two in-depth daily newsletters, The Bloomberg Open and The Bloomberg Close.
How are we doing? We want to hear what you think about this newsletter. Let our Brussels bureau chief know.