If 2020 has taught us anything, it's that we can't predict the future — but we need to be prepared for anything.
Whether you live on the East Coast where you brace for hurricanes, along the West Coast where fires all-too-commonly rage, in a tornado or flood-prone area or where you have to contend with snow and ice all winter, you're at risk. In 2018 and 2019 alone, natural disasters totaled more than $75 billion in insured losses. And 2020's shaping up to be another record year.
You can't predict when disaster will strike, but you can take steps to be ready when it does. A key component of that readiness is having the right insurance coverage to protect your home or apartment and your car.
Just buying policies isn't enough, though. It's also important that you understand your insurance coverage to avoid the financial devastation from not having the proper deductibles. In this case, we mean can you afford to pay your deductibles?
Finance and insurance analyst Laura Adams explains, "A deductible is an amount you must pay before your insurance coverage begins. So, it's important to know what they are and when they apply to various claims. If you don't have enough savings to pay a deductible after getting into a car accident or having a tree fall on your roof, you might not be able to complete needed repairs."
We set out to find out how many people understand and could comfortably pay their insurance deductible. Our goal is to help more people understand how important it is to maintain proper insurance coverage so they have the protection needed in the face of a natural disaster.
To do that, we commissioned YouGov Plc to conduct a nationwide survey. In early September 2020, they gathered data from more than 2,800 Americans. The results surprised us.
That study found that over half (61%) of the property insurance policyholders we surveyed are not very confident they know what their insurance deductible is for their policy. What's more, over three-quarters (78%) of policyholders have some level of worry that they wouldn't be able to afford the costs of a claim, and 36% wouldn't be able to cover a claim using their savings.
That's a problem. Scott Holeman, Media Relations Director at the Insurance Information Institute (III), says, "We offer this advice: Never take a higher deductible than you can afford. Choosing a high deductible can mean a lower monthly insurance payment, but it also means a higher bill to pay when things go wrong."
We want to help you be prepared, so let's look at specific risks based on your area and how your deductible works with different types of insurance.
Where could a natural disaster strike
Even a decade ago, you may have felt better about your risk of facing a natural disaster. But disasters are on the rise, and so are their economic impacts.
Let's take a look at some of the most common natural disasters in the U.S., the regions they usually impact and the insurance coverages that can help:
Fires: Last year, American fire departments faced a whopping 1.3 million fires. The Insurance Information Institute reports that over 4.5 million properties in the U.S. are at risk of wildfires, with nearly half of those properties in California. But while California has the most fire risk, wildfires can happen anywhere.

Insurance coverage for fires: Both homeowners and renters insurance cover fires. If you carry comprehensive coverage for your vehicle, your auto insurance policy can help if your car gets damaged in a fire too.

Hurricanes: The East Coast has to contend with hurricanes, and the 2020 hurricane season is already breaking records. If you live along the Atlantic, it's important that you know what to do if a hurricane makes landfall in your area.

Insurance coverage for hurricanes: Your home or renters policy should cover the majority of hurricane damage except for flooding. To defend against flooding costs, you'll need a separate flood insurance policy. Comprehensive coverage can help pay for hurricane damage to your car.

Floods: While fewer occur in the U.S. than many other natural disasters, floods still account for a significant portion of losses. If you live in a flood-prone area, it's important to understand your specific risk based on where you live. Use FEMA's flood maps to find out how exposed your home or apartment would be in the event of a flood.

Insurance coverage for floods: To protect your home or rental against flood damage, you'll need a dedicated flood insurance policy (homeowners and renters insurance generally do not cover flooding). In some cases, comprehensive coverage can help if your car gets damaged by flood waters.

Tornadoes: The U.S. sees more tornadoes each year than any other country. Texas, Oklahoma, Kansas, Nebraska and South Dakota are at particular risk because of their location in Tornado Alley.

Insurance coverage for tornadoes: Standard insurance policies will generally offer the protection you need if you live in a tornado-prone area. Home and renters policies protect against wind damage, as does the comprehensive coverage component of your auto insurance policy.

Earthquakes: Californians and Alaskans are at particular risk for earthquakes, but these disasters affect other states too. Find your state on this United States Geological Survey (USGS) chart to better understand your likelihood of experiencing an earthquake.

Insurance coverage for earthquakes: To protect your home or rental against earthquake damage, you'll likely need a separate earthquake insurance policy. To safeguard your car, you'll need to carry (you guessed it) comprehensive coverage.
Now, you should have a clearer idea of which natural disasters are most likely to impact your area and the insurance coverage you need to defend against them. But do you know how to get the coverage to kick in?
In almost all cases, you'll have a deductible apply in the event of a weather-related claim. That likely means your deductible is subtracted from the amount issued to you.
For example, your car sustains $4,000 of damage because a tree limb falls on it during a hurricane. If you have a $500 deductible, your insurer would give you $3,500 for the repairs ($4,000 minus your $500 deductible).
When we surveyed people in the four main regions of the U.S., people in the midwest were most familiar with what an "insurance deductible" meant as it related to their insurance policy. Overall, 78% of U.S. adults surveyed knew what "insurance deductible" meant.
That said, only half (54%) of policyholders were very confident they know their specific insurance deductible amount. Renters, in particular, were in the dark here, with 35% saying they are very confident they know their deductible.
Not knowing your deductible could mean a jarring financial impact in the face of a disaster. If you don't know how much you'll need to cover out-of-pocket to repair the damage, you put yourself in a potentially sticky situation when disaster strikes.
Prepping for the financial impact
To make sure a disaster doesn't ruin your financial wellness, let's look into how you can best understand your deductible and be ready to pay it.
Understanding how your deductible works
As a quick refresher, your deductible is the amount of money you'll pay out of your pocket if you face an insured loss.
It's also important to know that your property and auto insurance deductibles work on a per-incident basis. While you can meet your health insurance deductible on an annual basis, you'll need to pay your home, renters or auto deductible with each claim.
Could you comfortably do that? To find out, pull out your insurance policies, whether you have paper copies or you view your policies online. Locate your deductibles, then identify when it will be required for a claim.
Auto insurance deductibles
While you might not need to pay a deductible for some types of auto insurance (like your liability coverage), you will likely need to pay a deductible for damage to your vehicle. Comprehensive coverage protects your car against non-accident-related damages. It is designed to help with repairs or a full replacement of your vehicle.
Because this is the type of coverage you'll need to tap into after a natural disaster, it's important you know your comprehensive deductible. Make sure it's an amount you can comfortably cover at a moment's notice.
Renters and homeowners insurance deductibles
Generally, these policies have a standard, flat-rate deductible similar to the comprehensive coverage deductible on your auto insurance policy. This deductible applies to a broad range of disasters, including fires.
But there may be some other, incident-specific deductibles to consider. For example, if you live in a hurricane-prone area, your policy might include a separate wind and hail deductible. Usually, this deductible equals a percentage of the amount of dwelling coverage (Coverage A) you have for your home.
Either way, you'll need to cover your deductible to get your home or renters insurance to kick in. You might need to do this quickly because your policy can help with things like a hotel stay if your home or apartment is uninhabitable immediately after the disaster.
Read through your policy and talk to your insurance agent about your deductibles. It's critical you know how much you'd need to cover out-of-pocket if a disaster affects your residence. As Holeman reminds us, "Understanding the role deductibles play when insuring a car or home is an important part of getting the most out of your insurance policy."
Choosing the right deductible
If you're looking at your insurance policy and realizing your deductible is much higher than you can pay, you're not alone. Out of the policyholders surveyed by Bankrate, 78% have some level of worry that they wouldn't be able to afford the costs of a claim for at least one of their policies. There are some age-based factors at play here: 70% of boomer policyholders could cover the costs associated with at least one of their policies from savings, while 62% of Gen Xers, 58% of millennials and just 51% of Gen Z could do the same.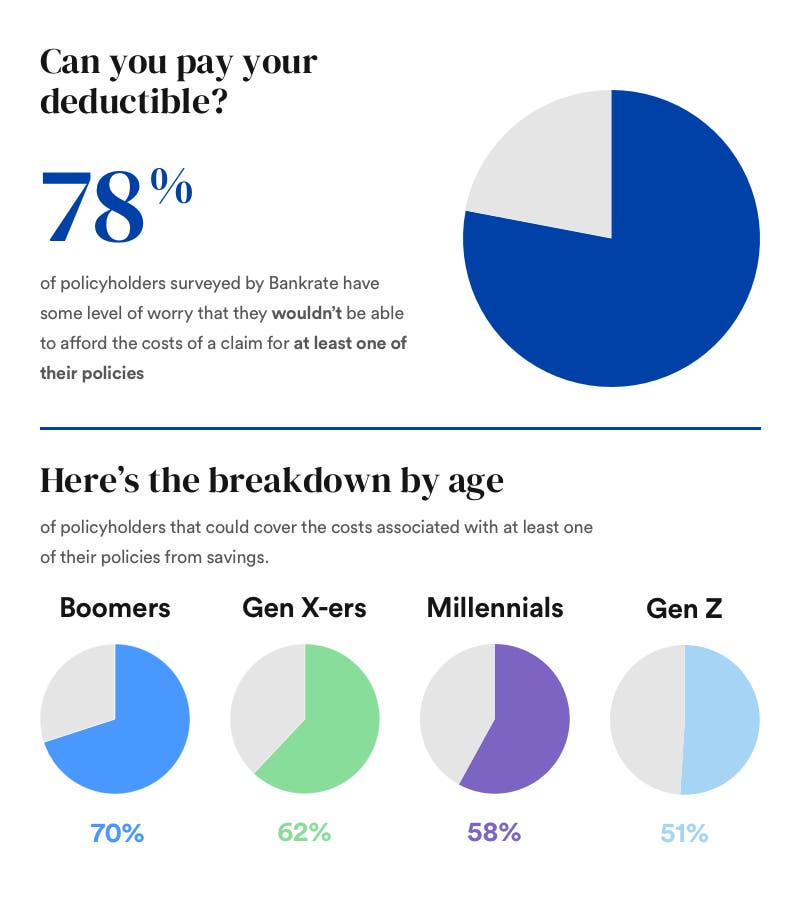 That number should be much closer to 100% for all age groups. Why? For one simple reason. You get to decide what your deductible is.
There's a tradeoff here, of course. A higher deductible will mean lower premiums (the amount you pay monthly for your insurance). Still, though, it's critical to make sure you don't carry a higher deductible than you could pay. All too many people are already in this situation. When it comes to paying for at least one of their deductibles in the event of a claim, 14% said they don't know how they'd pay for their deductible at all.
Talk to your insurance provider to find the middle ground where you can pay for both your premium and your deductible comfortably.
Carol Anderson, Assistant Vice President of Property Lines at MetLife Auto & Home, explains, "Selecting quality coverage with a lower deductible could mean a higher monthly or annual insurance premium. However, it puts the customer at ease knowing they may avoid the surprise of out-of-pocket expenses."
In other words, it might be worth paying a small extra amount each month to get your deductible to a point where you know you have the money in hand to cover it.
Take the time to look at your deductible(s). If they're at a dollar amount you couldn't comfortably pay right now, talk to your insurance provider about lowering your deductible(s).
The bottom line
Our survey found that a surprising number of people either didn't know how much their deductible is or didn't feel they could comfortably cover it. Don't be another statistic. Look over your insurance policies as soon as possible to pinpoint how much you'd have to pay out-of-pocket if you face a natural disaster.
If your deductible is too high, work with your insurer to change it. A lower deductible will mean a higher premium, but it's well worth it to know a disaster wouldn't financially wreck you.
On top of this, don't forget that you can take other disaster prevention steps. Ready.gov has tips to help you prepare for the natural disasters that are most likely to affect your area.
Survey methodology
Bankrate.com commissioned YouGov Plc to conduct the survey. All figures, unless otherwise stated, are from YouGov Plc. Total sample size was 2,826 U.S. adults. Fieldwork was undertaken on September 2-4, 2020. The survey was carried out online and meets rigorous quality standards. It employed a non-probability-based sample using both quotas upfront during collection and then a weighting scheme on the back end designed and proven to provide nationally representative results.