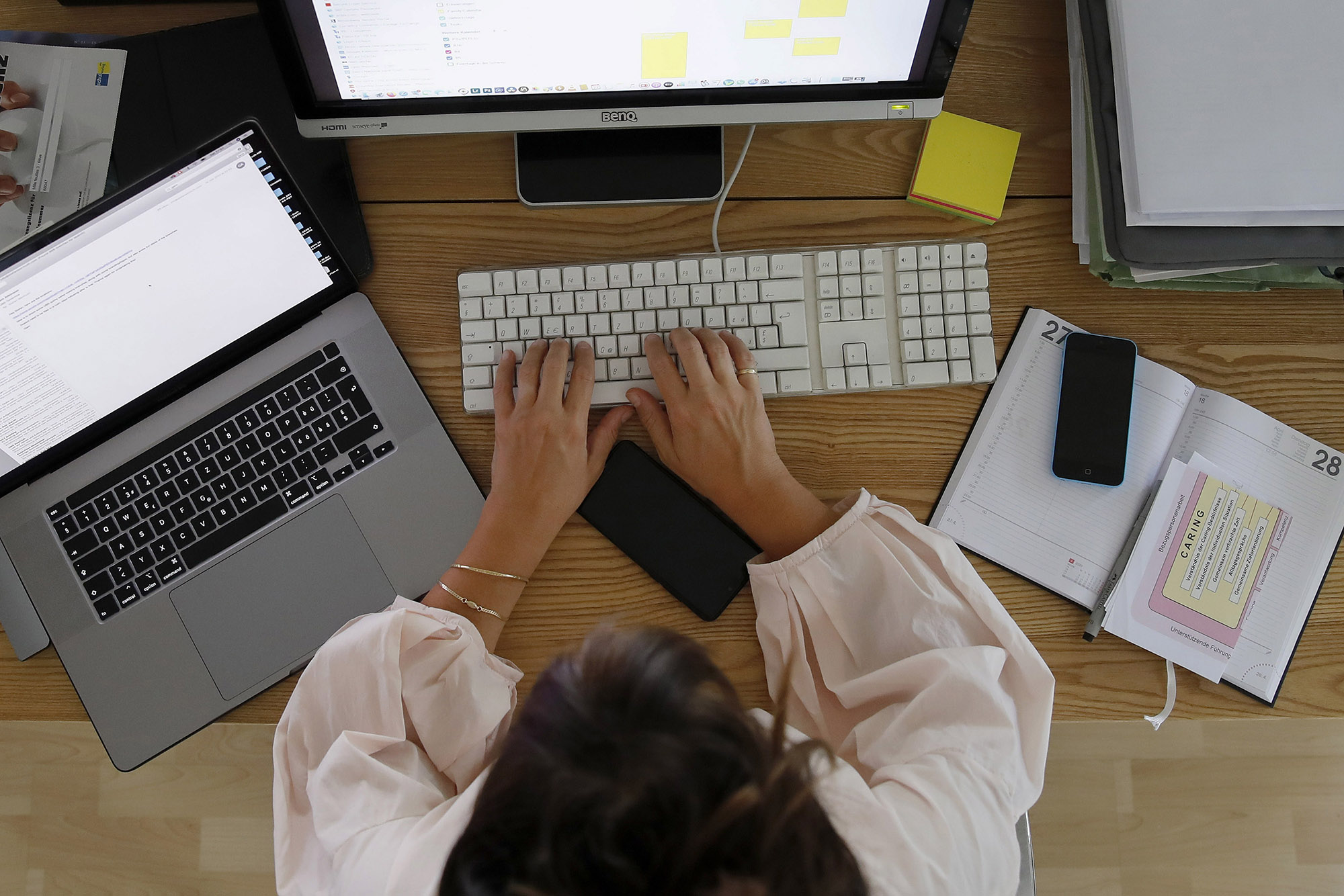 Mark Zuckerberg said it first. Other tech leaders are now chiming in, sending the same message to their software developers in Silicon Valley.
Don't worry about returning to the office, they say, at least not right now, perhaps never. And if you want to move somewhere cheaper, go ahead — but be ready to take a pay cut.
As more and more tech workers reconsider living in expensive coastal cities that have been deprived of their usual attractions, companies are being forced to reconsider how they put a price on a person's work.
If remote work goes from a nice perk to a permanent state for legions of computers engineers and others, does it still make sense to set pay depending on where they — at least in theory — could be asked to clock into an office?
And while many firms so far are sticking to their tried-and-tested methods, experts caution that remote work is here to stay — and that those pay strategies, too, eventually must be re-thought.
Worker Flexibility
"This debate was a long time coming," said Dan Walter, a managing consultant at FutureSense, which helps companies with personnel matters. "And it should have been dealt with before everybody moved to remote work."
While the coronavirus outbreak has pummeled swaths of the U.S. economy, the tech industry has largely been spared, and in many cases thrived. As stocks have soared, companies like Facebook Inc., Twitter Inc., ServiceNow Inc. and VMware Inc. have given their workers flexibility to decide where and how they want to work during the pandemic and beyond.
Many have already decamped to Texas or Colorado, fleeing the high cost of housing in the Bay area and taxes that are among the steepest in the country. What's more, wildfires across California have destroyed thousands of homes this year and choked the region in smoke for weeks.
Read more: VMware Cuts Pay for Remote Workers Fleeing Silicon Valley
Zuckerberg said in May that Facebook Inc. employees who work remotely and elect to move will be paid based on their new location. Several other firms plan to follow suit. Jennifer Tejada, chief executive officer of PagerDuty Inc., told reporters in September that the San Francisco-based firm historically has paid people based on local benchmarks. "We will continue that process," she said.
Box Inc. CEO Aaron Levie said the company is working to firm up its own policy. Stripe Inc. plans to make one-time payments of $20,000 to employees who relocate from the Bay area or New York while also cutting their pay by as much as 10%. Slack Technologies Inc., which previously used two compensation bands for employees — one for those in New York or San Francisco, and one for everyone else — has implemented a more detailed list based on location, according to CEO Stewart Butterfield.
'Flip Side'
"The flip side to 'I should get paid the same for the same work everywhere' is that 'It's not fair that I get paid the same as that person when their cost of living is 40% less than mine,'" Butterfield said. "But since they almost always, or maybe just always, net out ahead, even considering that, it hasn't been a big issue."
The tech industry has long embraced remote work, but few operated with fully-remote workforces. There's also uncertainty about how long the pandemic will drag on, and whether employees will ever populate corporate campuses and office towers like in pre-Covid times, said Adrienne Altman, a managing director at human resources consulting firm Willis Towers Watson Plc.
"The way we've always thought about pay is where the job is located — the job, not the person," Altman said. "But if the labor market is national, what's the value of that job nationally?"
Almost half of 6,300 respondents to a survey on anonymous professional networking site Blind said they shouldn't have to take a pay cut if they move somewhere cheaper. About 43% said they're willing to take less salary in exchange for a better quality of life.
Fluctuating Levels
Disgruntled employees aside, companies face a slew of other challenges. For tax purposes they need to know where their employees are located. If hiring is no longer limited by geography, they will have access to a wider pool of candidates — but so will their competitors. Regional pay levels may fluctuate, making it more difficult for firms relying on remote workers to determine how much to budget for additional roles.
"It's a constant cycle of work to update and maintain the bands because they do move so quickly and it's such a competitive market," Slack's Butterfield said.
This method may work for a while, but will lose its usefulness over time, Altman said. "If you say the job doesn't have to be anywhere, you're eventually probably going to have to shift your strategy away from geographic differentials."
There's also the question of fairness among employees. Pay for senior executives at large companies, for example, is generally not linked to the location of a company's headquarters. And there's no clear consensus on whether remote employees who choose to move to a costlier area should get a raise.
Compensation Bands
Brex, a San Francisco-based fintech company, recently circulated a memo among its employees laying out terms regarding remote work and relocations. The memo, which was reviewed by Bloomberg News, showed Brex has implemented three compensation bands. An employee who moves from the Bay area or New York to Massachusetts or Austin, Texas, for example, must take a 15% cut to their salary and annual equity awards. If they move to Utah or Georgia, the reduction would be 30%.
But an employee living in Utah who relocates to the Bay area will only get a commensurate raise if there's a "business need" for them there, according to the memo. What's more, any employee who moves from an expensive city to a lower-cost location before September 2021 will be excluded from the cuts and get to keep their current pay for several years, potentially causing wide internal pay disparities.
Brex's pay policies were designed to provide flexibility for employees and not pressure anyone to remain in their current location for compensation reasons, a spokeswoman said in an emailed statement. Work-from-home stipends and other perks won't be adjusted by location.
"A primary reason we currently pay differently across markets is in response to local talent supply and demand," she said in the statement. "As those dynamics adjust over time, we could see compensation philosophies adapt."
FutureSense's Walter said firms should develop a national average derived from pay levels in a number of different cities and pay remote workers at that rate, regardless of where they live.
"If you know you're going to have to change, why wait 10 years?" Walter said. "Why not change now?"
Scott Farquhar, the co-founder of Sydney-based software company Atlassian Corp., isn't convinced the model needs to be rejiggered immediately. "We anticipate paying locally in each jurisdiction," he said. "Yeah, there'll be some pushback on that."
But, he added: "Hopefully over time it normalizes so that someone in Kansas doesn't get paid a pittance compared to someone in New York City."
— With assistance by Sophie Alexander, Alexandre Tanzi, and Reade Pickert