Twitter has discovered a film in which actor James Woods plays Rudy Giuliani in a made for TV movie about the former New York City mayor.
Rudy: The Rudy Giuliani Story has caused quite a reaction online as Twitter users mock the poor production value and a particular scene featuring a moonlit stroll on a fake beach.
The film came out in 2003 and follows Giuliani's response to the 9/11 terrorist attacks. The fact that Donald Trump's personal lawyer is portrayed by vocal Trump supporter Woods is proving to be highly amusing also—Woods even earned an Emmy nomination for the role.
The heavily lambasted beach scene sees Giuliani and love interest Donna Hanover (played by Penelope Ann Miller) take a stroll while discussing politics.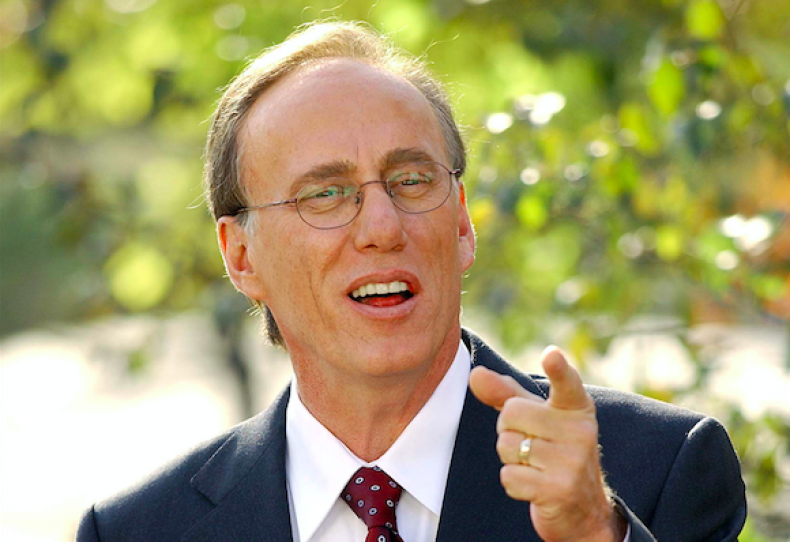 "I'm not much of a cuddler," Rudy tells Donna. "I mean, I'm not a hard ass, I'm not insensitive."
Then on the subject of politics, he says: "New York can be great again, someone has to set a high standard. That's what my father told me. Dad and my other heroes: Winston Churchill, Bobby Kennedy.
"Democrats always talked about things getting better, Republicans did whatever they could to make them better."
The clip was shared Monday night by a Twitter user who tweeted: "This romantic moonlit scene in RUDY: THE RUDY GIULIANI STORY absolutely murdered me. I am dead."
While another person added: "I didn't think 2020 had anything left to give us (or take away from us) but I was wrong because here's an unearthed clip of the 2003 movie 'Rudy: The Rudy Giuliani Story' starring James Woods as Rudy Giuliani and it is f****** G O L D."
Another couldn't even avoid laughing at the scene on dentist's orders.
"Courtesy of the dentist, I have several stitches in my lip," they tweeted. "I've spent a few days making sure not to laugh, to avoid excruciating pain. Managed to pull it off. Then tonight I saw James Woods' laughable portrayal of Rudy Giuliani and… there go the stitches."
They added: "This is the most unintentionally funny thing I've ever seen."
"i wonder if james woods is more embarassed [sic] to have played rudy giuliani than rudy giuliani is embarrassed to have been played by james woods?" another Twitter user questioned.
Another suggested that Woods should sign on for a sequel: "James Woods should definitely make a sequel to this to cover the period from 2002 to the present."
Another Twitter user said the scene should have made it into the new Borat movie, in which Giuliani featured in a now-infamous hotel room scene.
"This video of James Woods playing Rudy Giuliani should have also been somehow included in Borat: Subsequent Moviefilm."
Woods spoke about taking on the role in an interview with Entertainment Weekly in 2013.
"I've immortalized the comb-over. He'll never escape it," he said of Giuliani's hair. "Luckily the story only goes through 2001, so we didn't have to deal with the new [slicked-back] look."