Christmas shopping this year will feature less time in stores and more time online because of the coronavirus pandemic, which will put more pressure on small shops.
Jess Moores has doubled her small staff at the Manchester Craft Market this Christmas shopping season.
"Really trying to get people in and out as fast as they can because no one wants to hang out too much," the owner said last week from her store inside the Mall of New Hampshire.
Online orders are up about 50% compared with last year, as people who normally would buy craft items at local fairs found those outlets shuttered this year for the pandemic.
"I think a lot of the news is that a lot of small businesses are closing, are struggling, and (people) are just trying to find ways to support them," Moores said.
The pandemic has caused retailers to offer holiday deals sooner, keep stores closed on Thanksgiving to minimize crowds and convince more people to shop via their websites.
Every year, community leaders make the pitch for holiday shoppers to buy locally, but this year's message could be more important than ever. Many stores suffered financial hardships after government restrictions kept them closed, in some cases, for months.
"If some retailers have a bad shopping season this year, that could spell doom for them," said Tim Sink, president of the Greater Concord Chamber of Commerce.
"It could potentially put them out of business," said Sink, who said many small businesses offer online shopping and curbside pickup options.
The chamber and Intown Concord have partnered to promote a "shop now, shop local" campaign.
Worker shortage
Some retailers are finding it difficult to staff stores.
"It doesn't matter if it's the holiday shopping season or the regular season, staffing is horrific," said Nancy Kyle, president and CEO of the New Hampshire Retail Association, which represents more than 900 retailers, 90% of which are small New Hampshire-based independent stores.
"It's the biggest complaint I hear from retailers," she said.
During August and September, there were 3,207 openings for retail jobs in New Hampshire, nearly 300 fewer than a year ago, according to New Hampshire Employment Security and Burning Glass Technologies.
On the flip side, 5,849 people who worked in retail were filing for unemployment on a continuing basis as of the week ending Oct. 10. They made up one of every five such filers.
Kyle said relaxed rules to claim unemployment have kept some people home rather than working. The problem was worse when anyone collecting unemployment also received an extra $600 enhanced weekly payment from the federal government. That ended in July.
"Some retailers had to pay an additional $600 to get people back to work over and above what they were paying," said Kyle, who declined to name them.
"This isn't just a retail thing," Kyle said of a shortage of workers. "This is any business in New Hampshire. We're an aging population. It's hard to get help all across the board."
Some workers need to stay home to care for children learning remotely.
New Hampshire Employment Security last week released figures that showed as many as 35,000 New Hampshire residents cited the need to care for a child as the main reason they were not working, according to Brian Gottlob, director of the state's Economic and Labor Market Information Bureau.
A retail rebound
Overall retail sales have rebounded and have surpassed 2019 levels for the same time frame.
But not all retailers are equal.
Figures show "that clothing stores and electronics and appliance stores appeared to be most negatively affected by the pandemic," Gottlob wrote in a weekly update.
The state's retail sales, excluding non-store and online, were 3.3% higher in July than in July 2019, a big improvement from the 19.8% drop in April over the previous year, according to updated figures Gottlob provided.
July figures show sales for building materials and garden equipment were up a combined 19.2% in July compared to a year ago. Clothing and clothing accessories were down 23.8% in July over a year ago but marked a big improvement from April, when they were down 39.4% year over year.
"This pandemic has been very, very selective," Kyle said.
Online ordering remains strong across the country.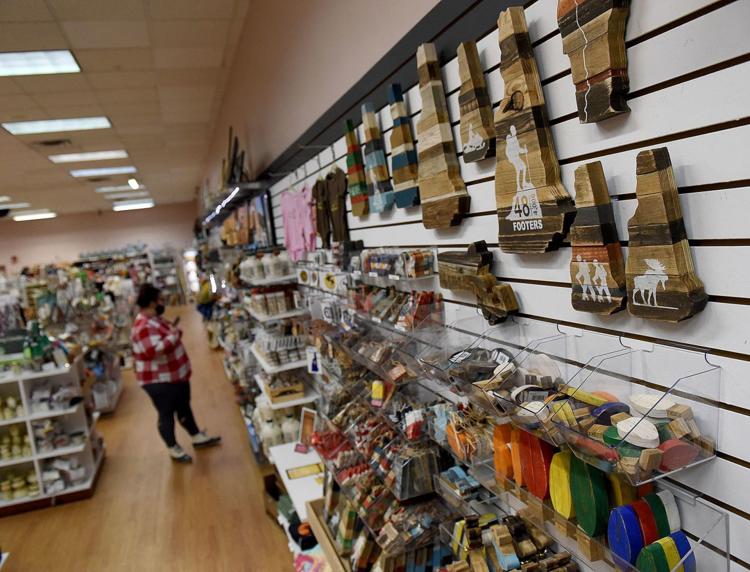 Amazon announced last week it was hiring more than 100,000 seasonal workers to help pick, pack and ship customer orders. Amazon ranked seventh on New Hampshire's list of most job openings for August and September.
The pandemic sped up the trend of shopping online.
"You took about four to five years of that evolution and did it in two or three months," Kyle said.
"You're going to see people do the bulk of their shopping online, which is very hard for brick-and- mortar (stores) and Main Street (small shops)," Kyle said. "The message for people is to shop online but to shop local."
Kyle said shoppers will be out earlier "because people have to mail more because we're not going to have our family gatherings."
As for the shopping prospects at the Mall of New Hampshire, a spokeswoman for the mall's owner, Simon Property Group, declined last week to make the mall's general manager available for an interview.
At home decor store Loft Fifty 5 in Bedford, co-owner Diane Sage started decorating the store and putting out holiday items for sale a few weeks earlier, rather than waiting for Halloween to pass.
"People are asking. I think people are shopping earlier," Sage said.
The store, which was closed from March 20 to early June, is trying to make up for lost sales.
"I think we're still behind the eight ball," Sage said. "We open and hope for the best like everybody else.
"I think people are appreciating the small businesses more than ever before," she said. "I think they realize without people coming into the store and buying, physically it's hurting their town, it's hurting their communities."
The store is located next to the post office, which helps draw customers, but don't ask Sage to predict how the holiday shopping season will go.
"I can't even begin to guess," she said. "There's so much uncertainty on every level."
"Are we going to close again? Do people feel comfortable shopping?" she said. "It's like a day-to-day thing."
What's Working, a series exploring solutions for New Hampshire's workforce needs, is sponsored by the New Hampshire Solutions Journalism Lab at the Nackey S. Loeb School of Communications and is funded by Eversource, the New Hampshire Charitable Foundation, Dartmouth-Hitchcock Medical Center, the New Hampshire College & University Council, Northeast Delta Dental and the New Hampshire Coalition for Business and Education. Contact reporter Michael Cousineau at [email protected] To read stories in the series, visit unionleader.com/whatsworking.