Businesses hit by the U.K.'s regional lockdown restrictions have been offered a new financial support package after claims that millions in the hospitality industry were being forgotten.
British Chancellor Rishi Sunak announced the fourth support package in as many months to help hard-hit firms under the country's "tier two" COVID restrictions. The UK launched a three-tier system in early October, splitting different areas into "medium", "high", and "very high" risk categories based on local infection rates.
Many businesses, particularly pubs and restaurants, saw trade plummet as a result. In the second "high" tier, households are banned from mixing indoors – effectively banning people from going out for a drink or a meal with anyone they don't live with. In these tier two areas – which includes London – hospitality businesses are allowed to stay open and as a result, they missed out on financial support offered to pubs, bars, and restaurants in tier three areas that were forced to close.
Sunak already agreed to support "very high" tier three firms with business grants and higher wage subsidies. It followed his "job support scheme" whereby the government will pay up to two-thirds of people's wages as long as employees are working.
Industry leaders and MPs warned that thousands of jobs were at risk ahead of Christmas, as a result of the new tier system lockdown – with tier two restaurants reporting hundreds of cancellations with no cash support to make up the losses.
Sunak told the Commons on Thursday that hospitality leaders in tier two areas across the UK had suffered a "significant fall in consumer demand" since the new system was introduced which "is causing profound economic harm to their industry".
The chancellor set out three new measures to support those businesses. The first, an extension to business grants for pubs and restaurants in tier two. They will be eligible for cash grants of up to £2,100 ($2,750) a month, which is up to 70 percent of the value of the grant for closed businesses in tier three. These grants will be retrospective and claims can be backdated to August.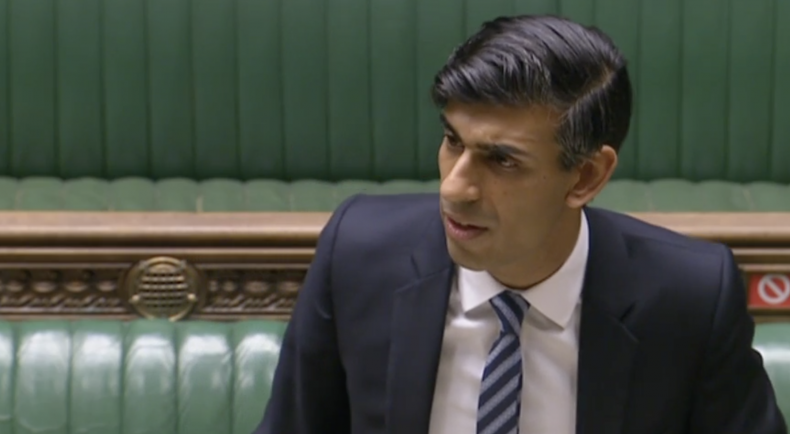 Sunak also said his "job support scheme" was being made "more generous for employers". Businesses will be offered a reduction in the number of hours that an employee needs to work to be eligible to enter the scheme. It will reduce from 33 percent to 20 percent of their hours. Sunak said the employer contribution to the hours not worked will reduce from 33 percent as originally planned, to just five percent. This will apply to eligible businesses in all alert levels.
For self-employed workers, Sunak announced that he would double government contributions to income support from 20 percent to 40 percent of people's income, with a maximum grant of £3,750.
Jonathan Downey, head of the Hospitality Union described the new measures as a "flop" and said the support was "far too little too late".
"This is his third attempt at next measures and another flop I think," Downey said. "Some [small businesses] will benefit from the grants and the improved JSS [job support scheme] but I'm really struggling to find anything that will make a significant difference to enough businesses to save hundreds of thousands of jobs."
The chancellor's spokesperson earlier said: "What we have always said is that our package of support is always flexible and always up for review to make sure that it is dealing with the situation as it evolves."
What is the different between tier two and three in the UK?
In tier three, social mixing is banned both indoors and in private gardens, while pubs and bars must close unless they can operate as a restaurant. For businesses in this band that are unable to legally operate due to COVID-19 restrictions, the government will pay employees 66 percent of their wage, with the employer still contributing to pensions and National Insurance.
In tier two, where pubs and restaurants can still open but are struggling to get customers through the door due to a ban on indoor household mixing, companies can only claim on a scheme where employers have to pay around 55% of staff wages with a smaller subsidy from the government.
The independent social change organization Joseph Rowntree Foundation welcomed the new support but said more is needed to help workers in poverty survive the winter.
Rebecca McDonald, Senior Economist at the foundation said: "With four million workers in poverty before coronavirus, we can't expect people to stay afloat on an ever-smaller fraction of their existing income when their costs have not changed.
"It's right that more support will now be available for people working in businesses affected by a loss of demand rather than just forced closures, but that needs to be enough for workers and their families to keep the roof over their head and food on the table through a very difficult winter."
The group is calling for the £20 rise in weekly Universal Credit (UC) payments – introduced at the beginning of the pandemic – to be made permanent and extended to all legacy benefits – welfare payments that were taken over by the UC system.
"Too many people now find themselves on the brink of being pulled further into poverty during the course of this year," McDonald said. "We can't lose sight of the need to reduce poverty by creating good jobs for the long term."
Wednesday saw the UK report its highest daily rise in lab-confirmed coronavirus cases since the outbreak began.
The government announced a further 26,688 lab-confirmed cases of COVID-19 in the UK.* This takes the total number to 789,229, a jump of more than 5,000 on the 21,330 positive cases confirmed on Tuesday, while a further 191 people died within 28 days of a positive test, meaning the death toll reached 44,158.
Meanwhile, a scientist on the government's Sage advisory team warned that the UK can expect thousands of deaths from the second wave of the disease. Professor John Edmunds told MPs: "We'll see peaks around Christmas, in the new year of very severe numbers of cases throughout the UK."
*Study methodology and notes
The government's latest data includes the number of people with a lab-confirmed positive COVID-19 virus test on or up to October 21. Full statistics are available to view online here.