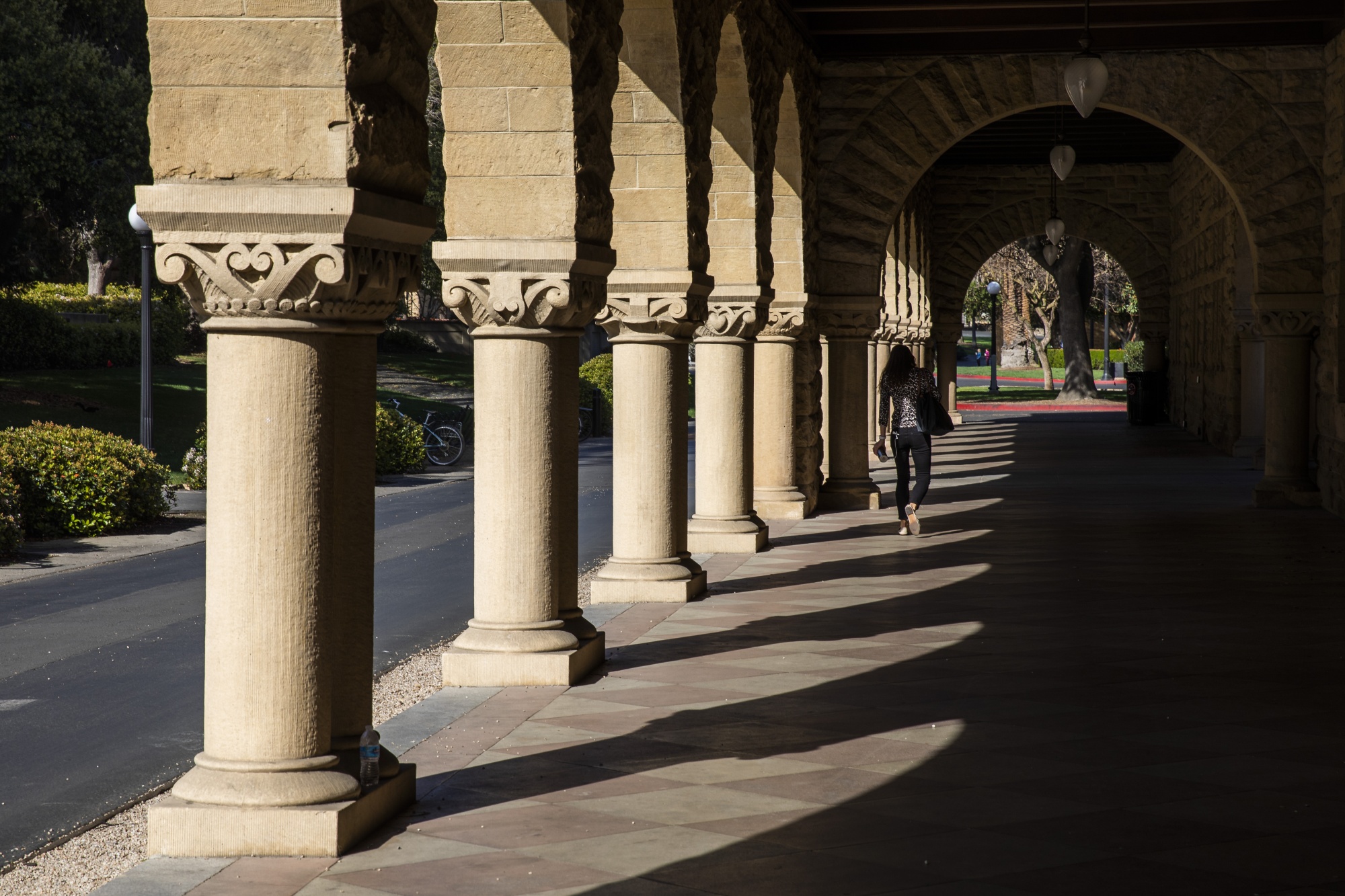 The number of foreign students entering America's top business schools is down sharply amid the Covid-19 pandemic and tight visa rules, even as overall enrollments and applications are up—a bad sign for U.S. programs that depend on international MBA candidates for diversity and full tuition.
International students in the entering class of the top 20 U.S. MBA programs, as ranked by Bloomberg Businessweek, declined 14% from last year. That followed a 1.2% decrease from 2018, according to a Bloomberg Businessweek Best B-Schools analysis of admissions data. If all the elite programs were jammed together, foreign students would make up 29.5% of the class that began at most schools in August or September, down from 34.9% two years ago.
The decline comes as dimmer prospects for networking—and earning—take some of the shine off the American MBA.
Foreign students are frustrated by the loss of face time and relationship building as classes go online to curb the spread of the novel coronavirus. They're wary of paying full freight, only to miss out on the jobs and salaries that drew them to the U.S. in the first place as prestigious summer internships go virtual and employers balk at higher barriers to sponsoring international graduates for work visas. And they face the additional stress of distant travel as the virus surges.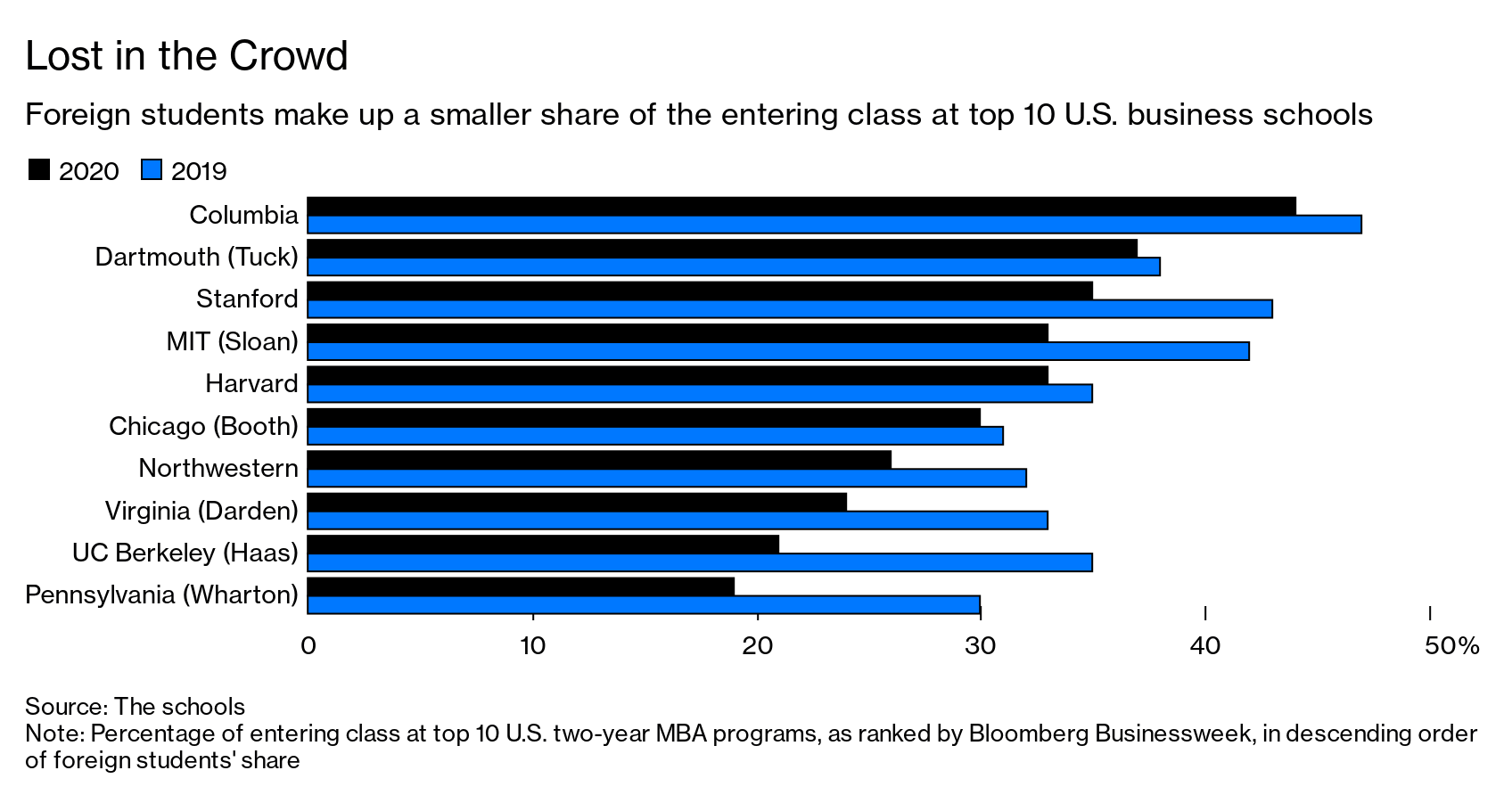 At the University of North Carolina's Kenan-Flagler school, which experienced one of the sharpest decreases, about 50 international students, or about 15% of this year's entering class, deferred their entry after the school announced a blanket deferral policy for foreign students. Visa and border issues and the political climate could help explain a plunge of almost 50% in the share of foreign enrollments from the 2019 admissions cycle, spokesperson Danielle Richie says.
Duke University's Fuqua School is one of the few where international enrollments were flat from the year before, but Dean Bill Boulding says the general trend is still troubling.
"I try to make it consistently crystal clear that no one is going to feel sorry for Harvard, Stanford, and Duke if our applications are down," Boulding says. "What we need to worry about is: Are we actually taking actions that are reducing the number of people who want to come to this country and cutting off the supply of talent [that] is good for our economy?"
Read More: U.S. Is No Longer Land of Opportunity for Foreign MBA Students
Second-year students, too, may be unable or unwilling to return to the U.S. to continue their education. James Theuerkauf, a German student at Harvard Business School, is deferring his second year to work on a pandemic-related startup. After reading about clothing retailers around the world burning cash as they sat on excess product, he and a friend launched a predictive-analytics software company to help them manage inventory.
Most of his friends who have deferred, from Germany and elsewhere, are doing virtual internships or coding boot camps as they wait for in-person instruction to resume—or simply to get into the U.S., Theuerkauf says.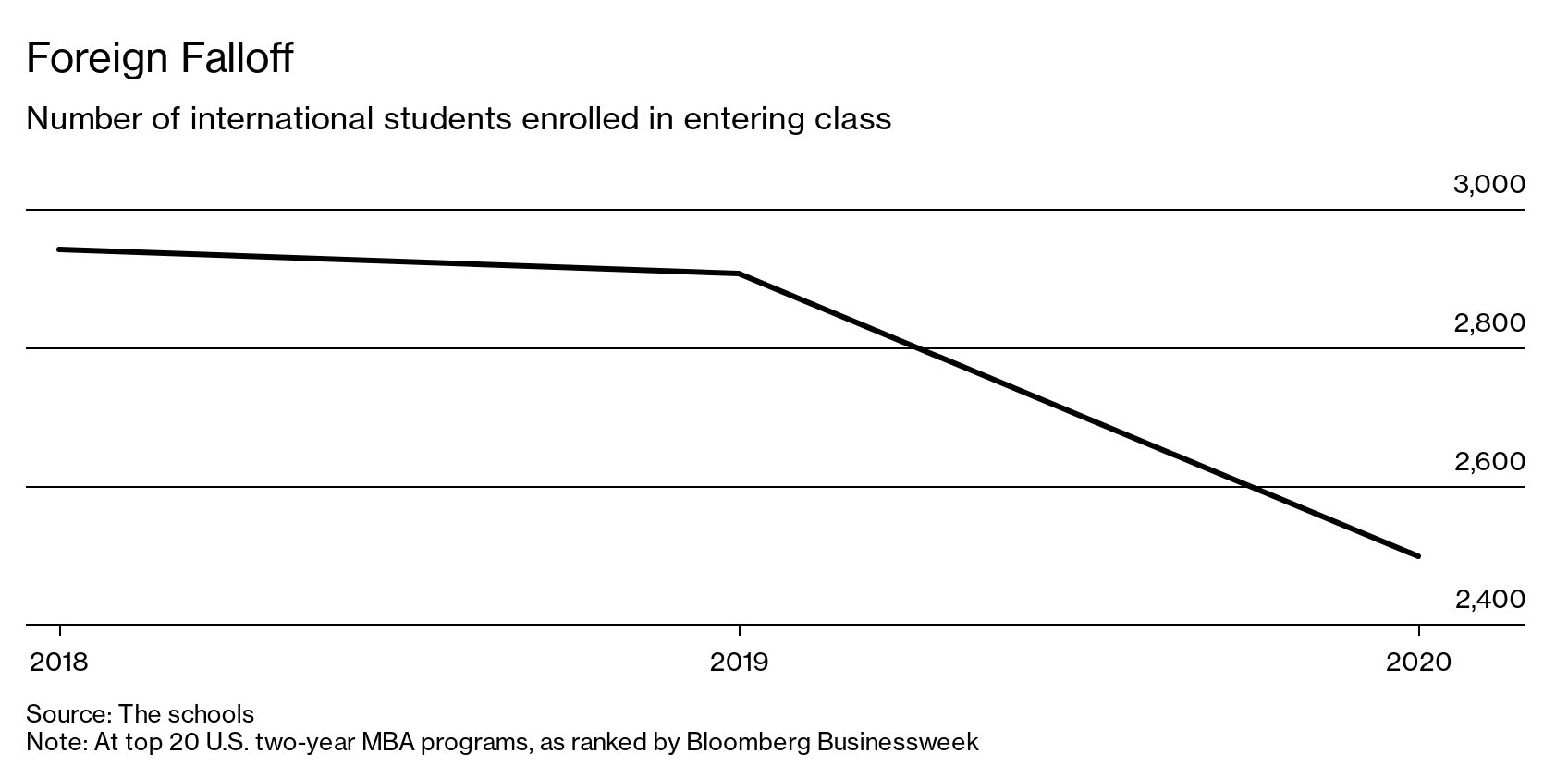 "People are doing internships—mostly not in the U.S. but in their home countries, in Latin America, in Europe," he says. "For many Americans, it was like, 'Oh yes, fine, we can just defer and we can just stay in Boston, we'll get the MBA experience'" hanging out together, even if classes are virtual, Theuerkauf says. "For us, that was a bigger issue, just because of the location."
He's based in London for now, working on his startup, and hasn't decided when—or whether—he'll go back to Harvard.
Meanwhile, total enrollments at the top 20 U.S. schools are up 1.7% from last year, Bloomberg Businessweek found.
Even before the pandemic, foreign applications were down for the third year in a row, according to a 2019 report by the Graduate Management Admission Council, which cited stricter immigration policy.
Uncertainty over entry to the U.S. adds heft to growing competition from overseas MBA programs. That's both an institutional and a financial problem for U.S. schools, where foreign students have proved a fiscal boon. The vast majority pay in full, a bill that can top $80,000 annually for a two-year program.
Schools point out that it's been a crazy year. In addition to all the other factors skewing the numbers, many schools made deferring easier, which depressed enrollments, though they also extended application deadlines and dropped some testing requirements to help students cope with the crisis. At Georgetown University's McDonough School, international students made up 54% of deferrals, according to spokesperson Teresa Mannix. Almost 70 students opted to defer this year, up from around 30 last year.
At the Yale School of Management, too, international students accounted for most of the deferrals, but this year's entering MBA class is 40% international, the second-highest of the top 20 schools, after Columbia Business School, at 44%. Assistant Dean of Admissions Bruce DelMonico says Yale worked hard to support foreign students through the pandemic, offering flexible deadlines and even hiring immigration lawyers to represent students with visa problems.
Still, its international student enrollment is down, from 44% last year and 45% the year before.
"Hopefully, this is just a temporary response to the current circumstances and not something longer-term," DelMonico says. "I think if more restrictive immigration policies do get perpetuated farther into the future, that might change things."
That prospect worries Fuqua's Boulding.
"The rules of competition in the world of business are being rewritten on the basis of knowledge, which is human capital," he says. "And if you're not attracting the best human capital to your country, you run the risk of being left behind." —With Mathieu Benhamou and Alexander McIntyre