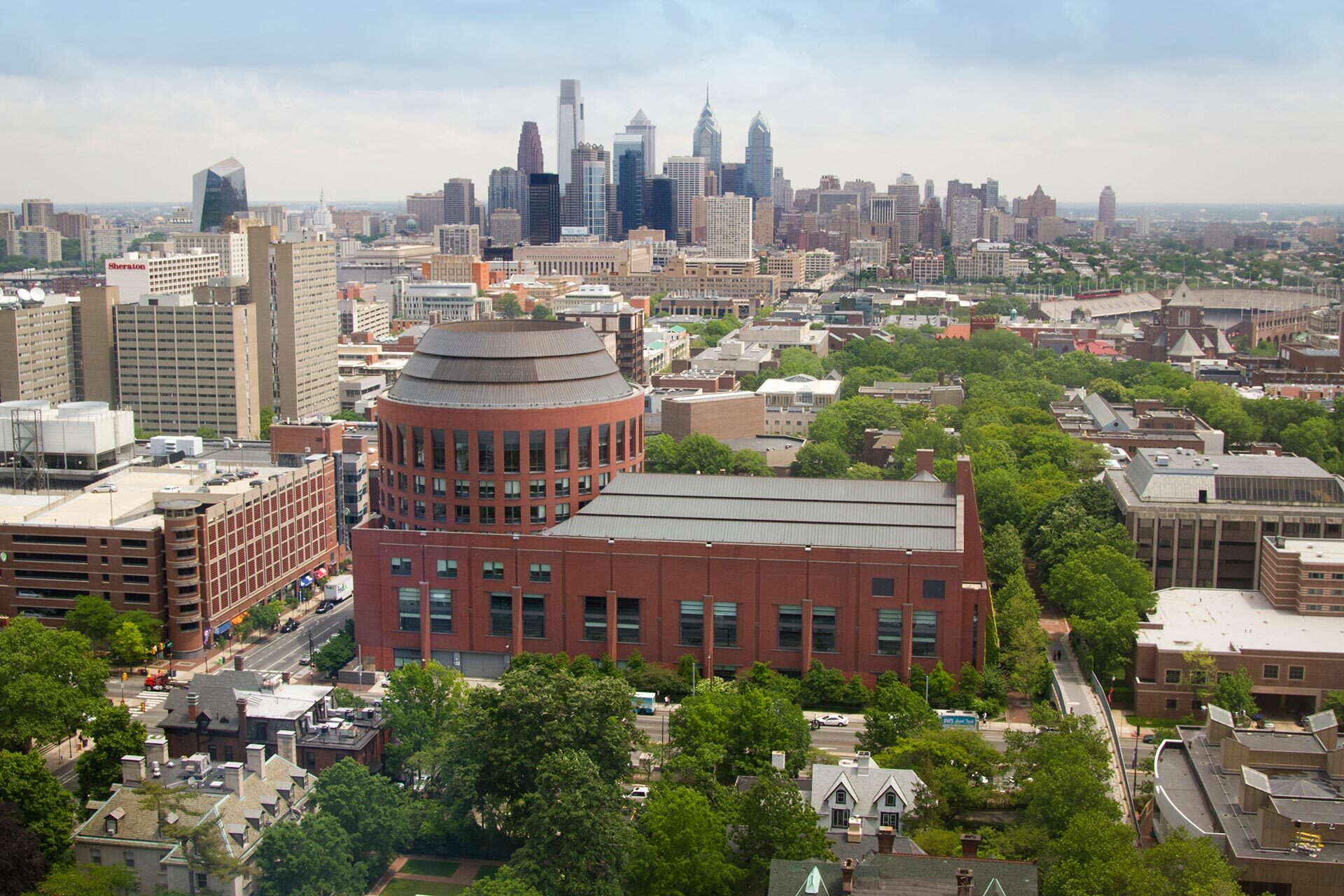 Top U.S. business schools enjoyed a double-digit surge in applications this year—after a spate of declines—as people facing a pandemic-stricken job market sought to boost their prospects, and admissions departments opened their doors a little wider.
With the longer trend going the other way, the question any first-year business student would ask is: Can it last?
The number of applications to full-time MBA programs at the country's top 20 schools, as ranked by Bloomberg Businessweek, rose 13% from last year, when bids declined by 8.7% from 2018. The spike, according to the magazine's Best B-Schools analysis of admissions data and figures from the Graduate Management Admission Council, reverses a five-year downturn.
That long slide involved a decline in applications among 53% of programs surveyed in 2016. The percentage grew steadily to 73% of programs in 2019, according to GMAC, which keeps data on hundreds of schools. 
"We have watched declining interest in graduate management education across the board, not just with the MBAs, but even across one-year masters and the rest, over the last few years," says Eric Askins, director of full-time MBA admissions of UC at Berkeley's Haas School. "I don't believe that we've reversed the downward trend in full."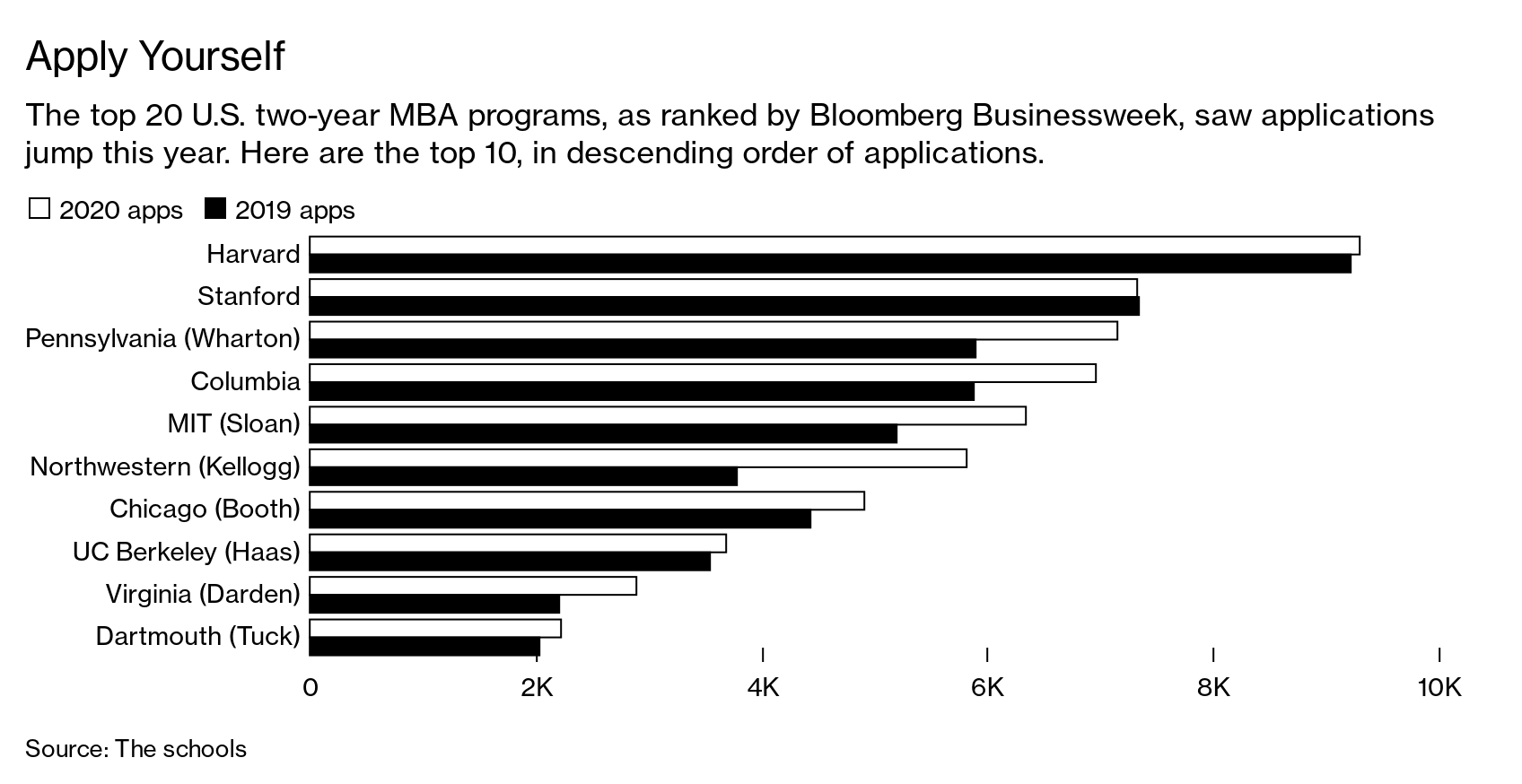 The slump in applications came amid a vibrant economy, stricter visa policies for international students seeking work, and increasing competition from business schools abroad. Now, as admissions deans at MBA programs squint into the future, they're trying to figure out how those factors might change—and how those changes will affect applications.
"We are experiencing a truly unprecedented time with the impacts of a global pandemic, the U.S. presidential election, and social injustices," says Danielle Richie, associate dean of admissions at the University of North Carolina's Kenan-Flagler Business School. "The triple threat could influence the outlook of future applications, but there are so many unknowns."
In the long run, Askins says, business schools will have to figure out how to better meet students' needs in all conditions.
When the Covid-19 coronavirus struck in the spring, aspiring MBA candidates had a hard call to make. Networking, study groups, summer internships, and face time of all kinds are central to business school. Did it make sense to invest in an education that might be entirely online, at least for a semester and maybe for a lot longer?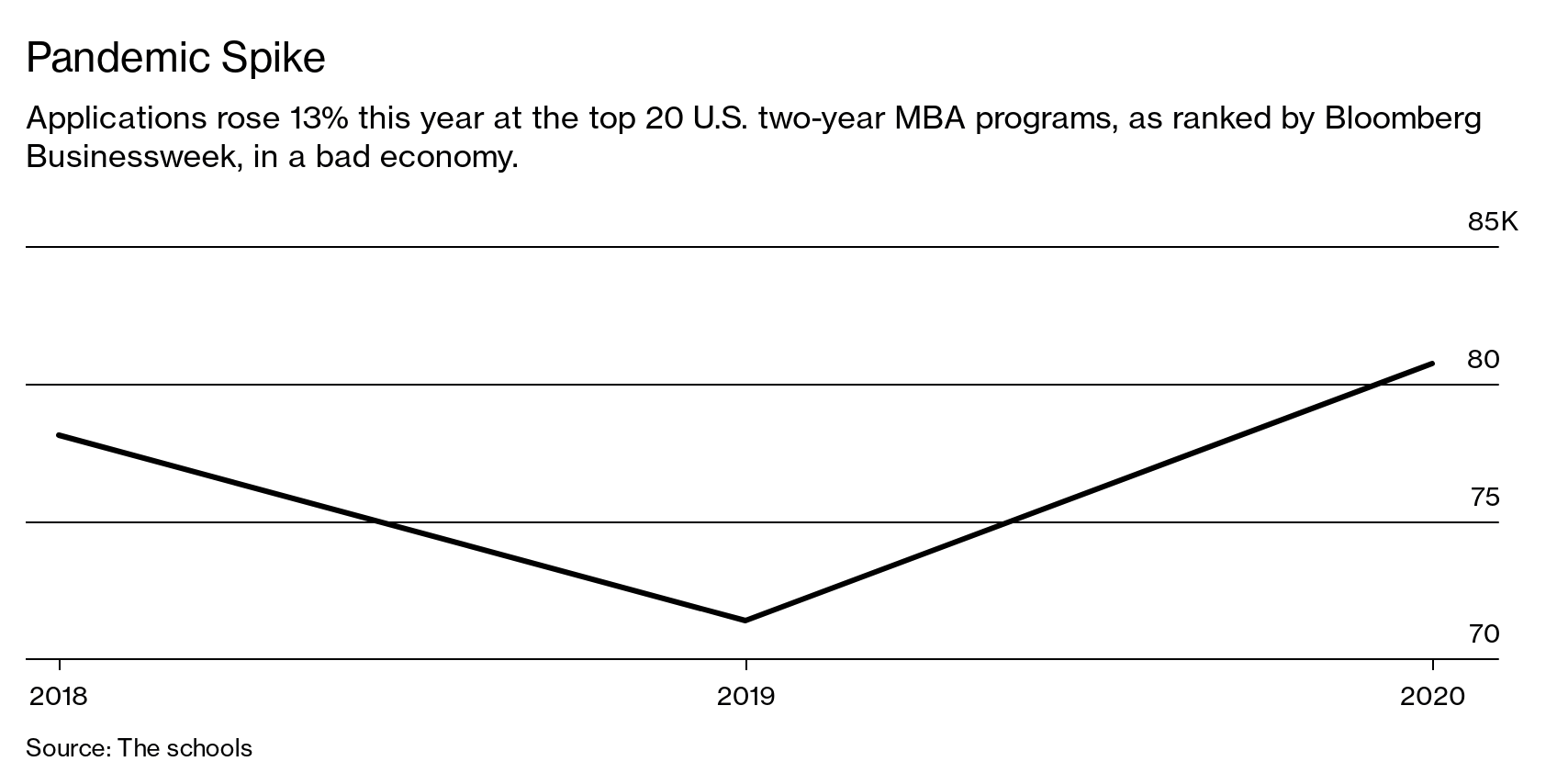 International students, who typically pay full tuition, had to decide whether to foot a two-year bill that can top $160,000, only to eke out its benefits from Germany or Ghana, far from their cohort and prospective U.S. employers. Indeed, this year's entering MBA class at the top 20 schools includes some of the lowest enrollments of foreign students in years. 
Read More: Top-Ranked U.S. Business Schools Losing Vital Foreign Students
But the virus didn't deter everyone. Many who had long dreamed of increasing their career options and earning power with the degree saw the downturn as an opportunity, Askins says. With the economy in shambles and hiring freezes at some of the country's largest companies, they decided to act.
Most of the schools eased their path, agreeing to extend application deadlines into the summer. Many institutions had no choice after sittings for the GMAT and GRE entrance exams were delayed or canceled amid the pandemic lockdown, making it impossible for students to meet the regular cutoff.
The University of Pennsylvania's Wharton School pushed its application deadline back by two weeks, while Kenan-Flagler extended its end date by more than two months. Yale delayed its usual April deadline to the end of May. Dartmouth's Tuck School kept admissions open for a fourth rolling round, from April to June. Some, such as Haas and Northwestern University's Kellogg School, increased the size of their classes.
The payoff was palpable, both for the students and for the top schools, which have no trouble filling their classes but depend on a big application pool to keep up standards—and bragging rights. At Wharton, MIT's Sloan School, and Columbia Business School, applications rose by about 1,000 from last year. All three extended their deadlines, and Wharton allowed international students to defer for the year without a penalty. 
The extended rounds Haas offered "brought forward candidates who were thinking about applying in a future cycle" and "who were early to take action, because applications tend to run countercyclical to the economy," Askins says.
There were exceptions. Stanford, Bloomberg Businessweek's top-ranked school, didn't extend its deadline, though it let applicants submit test scores later. Applications were flat from 2019.
"We did not want to open up a summer round and ask new applicants to apply when we already had such talent in our first three rounds," says Kirsten Moss, assistant dean of MBA admissions. "That would not be fair to new applicants as their chances of being admitted would be small, given how far along we were in our process."
The results of November's presidential election are among the factors that will affect the global applicant pool over the next few years, says Kenan-Flagler's Richie. 
"We're truly in an unprecedented time," she says, "and there's a lot that can happen in a month or so." 
—With Alexander McIntyre and Mathieu Benhamou