In 2020, online education became reality for students and parents across the state. While it was a new experience for many, that wasn't the case at Utah Online School who has been leading the way in online education for over 15 years.
With a course completion rate exceeding 90% and a graduation rate of 99%, Utah Online School has a proven track record for helping tens of thousands of students. In fact, Director Laura Belnap says enrollment for Utah Online high school has doubled each year for the past five years.
Utah Online School offers students nationally accredited curriculum with virtual instruction, from highly qualified Utah teachers. As a Utah public school, enrollment and instruction are free.
When schools across the nation switched to online instruction this spring, many students, parents and teachers were overwhelmed. That's in sharp contrast to Utah Online School where highly qualified teachers are responsive and available to parents and students by email or phone and in online classrooms. In addition to a counselor, another adult serves as a mentor to support the success of each student. Trained tutors and tech support experts are also available to bolster student success.
"Math teachers provided online tutoring, and I would often attend his tutoring sessions. He would also call and email me whenever I did well on a test, which was awesome," says one student. "And it was good motivation for me to do well. He would even make videos about the concepts that I was struggling with so I could watch them over and over again until I could finally understand them."
In addition to being qualified, licensed and certified, teachers at the school are passionate about helping students. "I am able to customize and individualize content for students' specific needs in a way that was not possible previously. And as someone who went into education because I truly love teaching high school kids and love this age-group in general, this has been a dream job!," says teacher Kellie Richins.
"This is not home-schooling," Belnap says. "One size doesn't fit all. Kids don't all learn at the same pace. Education with Utah Online is tailored to provide the best chance for academic success for each student by offering an engaging curriculum paired with certified teachers, administrators and support staff who care."
Utah Online School offers enrollment options to meet individual student situations: full or part-time, credit recovery, grade replacement, and summer school options.
For parents who believe their children need the benefits of social interaction in a brick-and-mortar school, Utah Online School offers families the option of a blended schedule with children attending classes part-time combined with online learning. High school students can take up to 6.0 credits each school year with Utah Online, and still maintain enrollment at their boundary school.
Schedule flexibility is another benefit Utah Online School offers. Teens and younger students who learn better with a later start can choose a learning time that works best for them. Other students who are engaged in extracurricular activities can arrange their schedules to best meet their individual and personal needs. Blending a school schedule allows students the best of both worlds.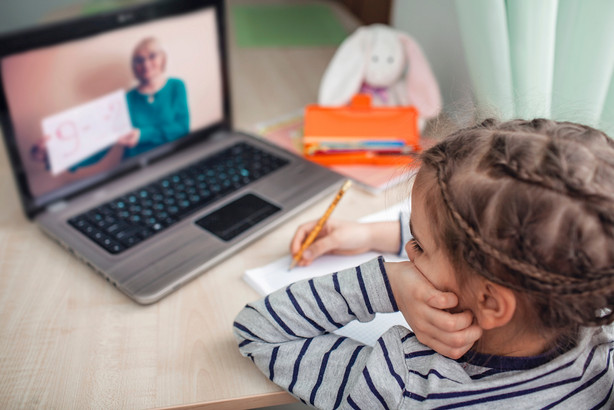 In addition to traditional coursework, Utah Online School provides student-centered activities focused on mental health, mindfulness and college and career planning. Counselors are trained and equipped to help support students who face mental and emotional challenges.
Belnap explains students meet with their qualified school counselor to evaluate academic progress and prepare for their college and career future.
An academic success class provides a structured environment for struggling students to help them get back on track.
"What makes Utah Online a special place for students is they can develop what works for them and have the time to pursue what they find most important," says Justine Peterson, who teaches art classes for the school.
Course offerings at Utah Online School are expansive. UOS offers traditional subjects like reading, art, history and math, along with less traditional courses like computer science, programming, coding, world languages (20-plus), music (guitar, ukulele, piano and more), wildlife and marine biology, honors courses, driver's education and ACT prep. Students can earn physical education credit for participating in any physical activity they are already involved in, such as club sports.
Madison Belnap, another teacher at Utah Online School says, "Teaching for Utah Online High School is a privilege. I love the opportunity to teach students from all over the state, with diverse backgrounds and varying circumstances. Connecting with these different students is so expanding for me as their lives add a level of abundance to my experience as an educator."
Utah Online School serves more than 10,000 students each year with more than 100 teachers, counselors and staff. Those numbers continue to rise as parents seek ways to keep their children safe while still providing them with the best available education.
"No matter what happens with the coronavirus, our instruction patterns will continue to provide exceptional education to students and families seeking an online option." Laura Belnap says, "We don't operate in crisis mode. Utah Online has developed a tried and true educational model."
×
More stories you may be interested in