For the first time in at least a decade, the number of new scripted shows released in the U.S. will decline.
TV studios had to shut down production all spring and summer due to the coronavirus, and are just now resuming work on scripted series. While streaming services stashed shows months in advance, most linear networks have turned to reruns, movies, reality TV and sports to fill the airwaves.
It's easy to dismiss this as a one-time blip due to the coronavirus. TV networks and streaming services can't release new shows when studios can't make them. But it's possible that this could also mark the end of an unprecedented surge in scripted TV production that turned the golden age of TV into peak TV.
It's dangerous to make this prediction. John Landgraf, a man far smarter than me, tried to say TV would peak a few years ago. He was wrong. He didn't anticipate that so many tech companies would be willing to light money on fire to boost new streaming services.
While those companies are still willing to light money on fire for "marketing," many of the traditional media companies that fueled the initial surge are now cutting back.
The first phase of the TV boom came about because cable networks increased their output of scripted shows from 30 in 2002 to more than 180 by 2017. Premium cable networks (HBO, Starz and Showtime) more than doubled their output over that same time period.
This strategy made sense when the number of people who paid for TV was growing, and networks could reinvest advertising sales and fees from cable operators into shows that boosted their prestige. The networks often used original programs to secure their position in a cable package, It was easier for Pop to get carried by Comcast when it had "Schitt's Creek."
But cable networks are now losing customers, and TV advertising is slipping, prompting their owners to consolidate networks and cut staff.
Mergers have also reduced the risk of getting dropped by pay-TV operators. Pop is now part of the same company as CBS and NatGeo is in the same family as ESPN, giving them protection they didn't have before.
Cable networks started cutting back on scripted shows a year or two ago, and they are about to trim their slates a whole lot more.
Pop, which just won the most Emmys in its history, will now air little more than reruns. The Paramount Network, home of the hit "Yellowstone," is being rebranded the Paramount Movie Network and will stop making long-form series. Comedy Central is getting smaller by the day. That's just at one company, ViacomCBS Inc.
A similar fate awaits cable networks owned by Walt Disney Co., Comcast Corp. and AT&T Inc. as those conglomerates invest in streaming.
Networks like USA, NatGeo and TNT air a handful of originals right now, but for how long? The future of these brands is online. NatGeo is a tile on Disney+. Shows on TNT and TBS will be HBO Max originals, and shows from USA could debut on Peacock. Even FX, one of the earliest cable networks to make original series, is now producing for Hulu.
The only cable networks that need original series are those that don't have a major streaming service to feed (like AMC).
Broadcast networks' output has remained pretty steady between 110 shows and 150 shows for the last two decades. But that too is about to change.
Ratings have fallen to the point that these networks have to be more judicious about spending, especially with the double-digit drop in TV advertising this year. The cost of sports is soaring, and that remains the top priority. If you need to fill the rest of the prime time hours, unscripted is cheaper and easier to produce (especially during a pandemic).
Fox has already announced it plans to focus more on sports and news, and networks like NBC and CBS may soon follow. 
The overall volume of new TV will still grow because of investment in new streaming services. How much of that investment goes to scripted programs remains to be seen. Netflix is more focused on international programs, reality TV and movies.
What does this mean for the viewer? A bifurcated world where all of your live sports and news are on cable and all your dramas and comedies are on streaming. For a lot of society, that's already the new reality. — Lucas Shaw
The best of Screentime (and other stuff)
Disney battles California over theme park openings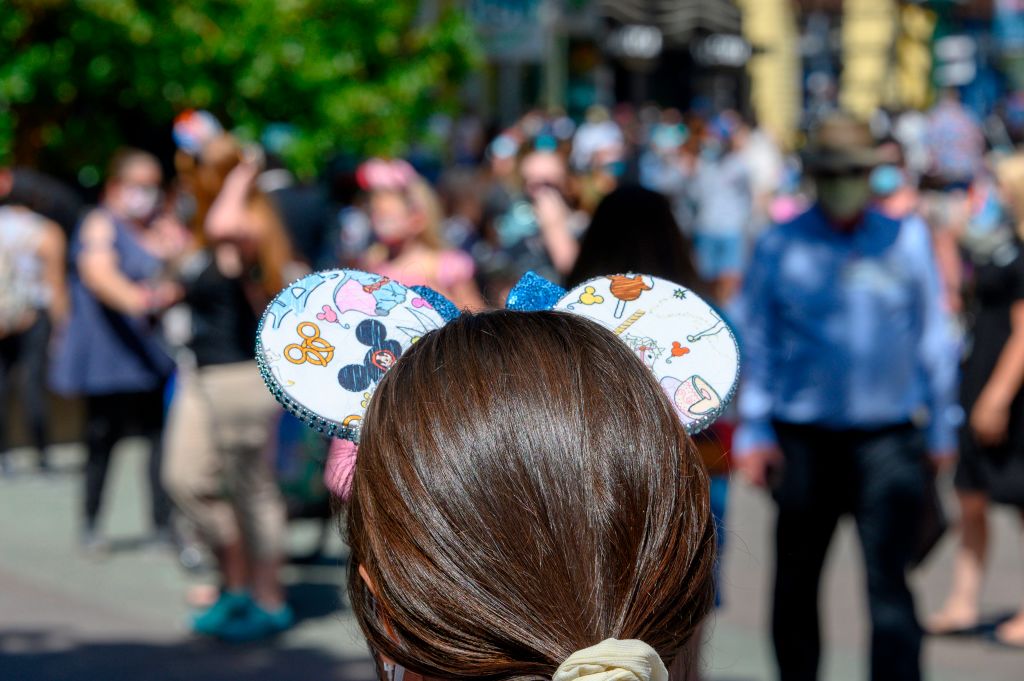 Disney fired 28,000 employees at its theme park and resorts this week, one of the single biggest job cuts since the start of the coronavirus. The majority of those losing their jobs are part-time employees.
The cuts underscore the challenges facing the travel industries. Major airlines have warned they may need to fire staff.
It also escalates a dispute between the entertainment giant and the state of California over the safety of opening parks. California is working on guidelines that would allow parks to open at 25% capacity, and only permit visitors who live within a certain distance. Disney Executive Chairman Bob Iger quit California Governor Gavin Newsom's COVID-19 recovery task force.
Disney's parks have reopened in Florida, where the governor has also lifted all restrictions restaurants and other businesses (including banning fines for people who don't weak masks).
James Bond moves out of 2020
MGM delayed the release of "No Time to Die" until April 2021, clearing the calendar of any major release, save for a couple kids' movies, until late December. (In a smaller shift, Warner Bros. will release its adaptation of Roald Dahl's "The Witches" on HBO Max instead of releasing it in theaters.)
Following the disappointing performance of "Tenet," studios aren't going to risk releasing big movies in theaters any time soon.
That's bad news for movie theaters, which are struggling to survive. Almost three-quarters of small and midsize cinemas in the U.S. could go bankrupt, according to the National Association of Theatre Owners, a trade group.
Sports ratings are in freefall
This tweet from Sports Media Watch summed it up nicely:
Viewership of the NBA Finals, Stanley Cup Finals, Kentucky Derby, U.S. Open (in golf) and Indy 500 have plunged to all-time lows. These are all events that normally happen in May and June that instead got delayed.
Quibi's cash burn
How best to illustrate the failure that is Quibi?
It doesn't have a hit show.

It has a smaller Instagram following than a D-list celebrity.

Its founder is trying to sell the company just a few months after it launched.
My colleagues crunched the numbers on how Quibi's programming library stacks up against its peers, and how much money it will need to remain in operation.
Can Hollywood survive the pandemic?
Recode's Peter Kafka was kind enough to have me on his podcast this week to talk about which sectors of entertainment are adapting best to this topsy-turvy moment. (Hint: not movies.)
The BTS billionaire
Big Hit Entertainment, the management company that formed BTS, is going public at a valuation of $4 billion.
Bit Hit's founder Bang Hi-Syuk will be worth $1.4 billion. The seven members of the band are getting about $7 million each.
Bang, also known as "Hitman," founded Big Hit in 2005 after a successful career as a music producer at JYP Entertainment Corp., one of the other major Korean management companies. 
Weekly Playlist
New music from Aloe Blacc and Compton rapper YG. Dua Lipa released a new version of her hit song "Levitating" with DaBaby; I prefer the original.
Pop Star Tracker